Alfacash has a nice feature called Auto Exchange for cryptocurrencies ( Bitcoin, XRP, Ethereum, Bitcoin Cash, Litecoin, EOS, Stellar, Monero, Dash, Ethereum Classic, NEM, Zcash, OmiseGo, Augur, Qtum, TrueUSD, Paxos Standard, 0z, Chainlink, Basic Attention Token, Holo, Golem) which allows you to exchange your cryptocurrency automatically without visiting the website.
To use Auto Exchange you only need to:
Create a new auto-exchange template (e.g. Bitcoin to Litecoin)
Copy the deposit address from your template (Bitcoin address)
Send cryptocurrency ( Bitcoin) to the deposit address (Bitcoin address)
Automatically get converted funds according to your template! ( Litecoin)
Below we will provide more detailed guide on how to create Auto Exchange template to automatically exchange Bitcoin to Litecoin:
1. Create a new account, login into your account and then click on Auto Exchange

​
2. There is a quick overview of what you need to do in order to create auto-exchange template: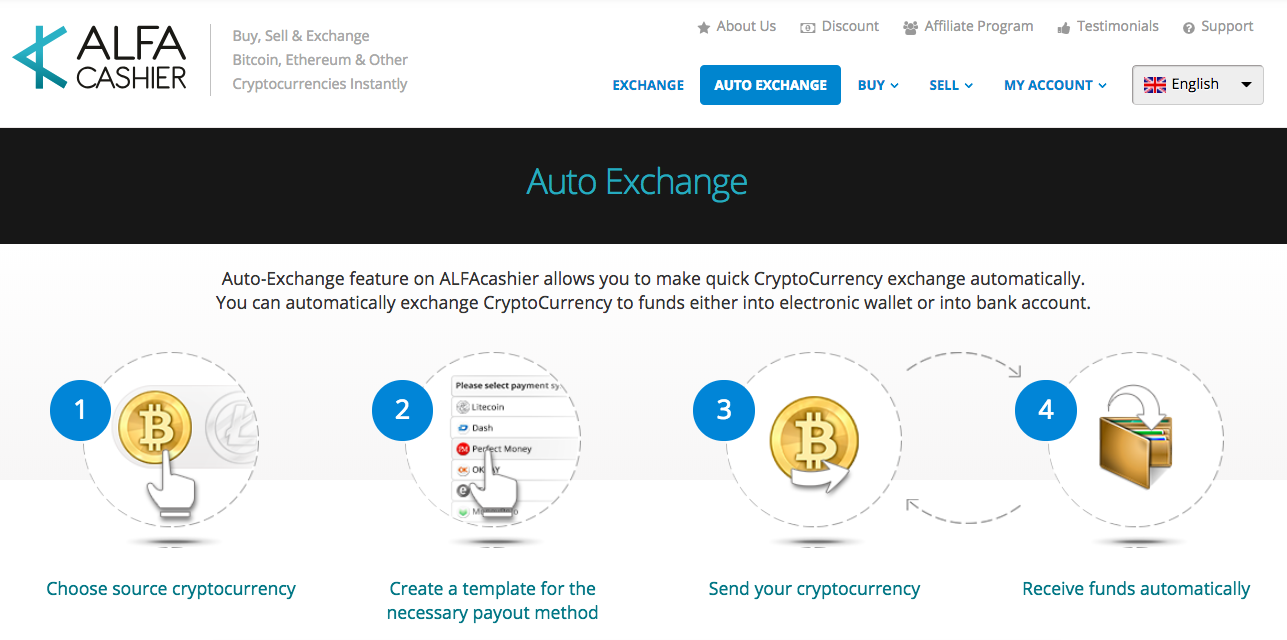 2.1 First you need to choose source cryptocurrency. In our case Bitcoin - by clicking on the Bitcoin icon (1) and then you click on the "Add New Template" green button (2):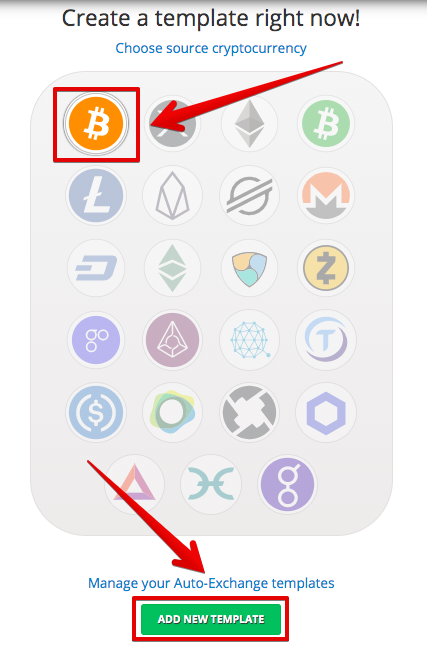 2.2 Next, you need to choose exchange direction. In our case - Litecoin: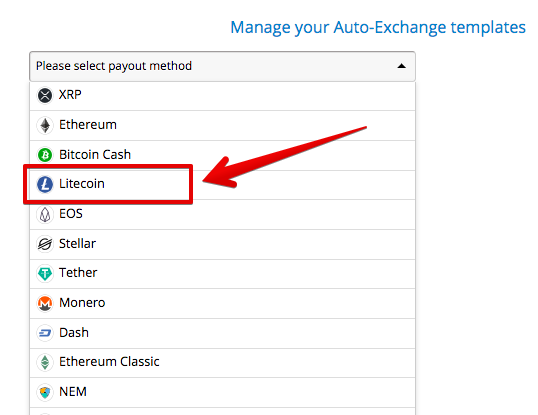 2.3 Now, you need to enter your payment details (they might be specific to the payment system you'd use). In our case - it will be PerfectMoney account number (1).
Also you can use previously saved wallet addresses (2).
Click on "Add" button (4) to create auto-exchange template for Bitcoin -> Litecoin.

Please note: minimum limit, maximum limit, total available amount, fee, required amount of confirmations and exchange rate in (3). Network fee is not shown in this block.
3. Congratulations, you've just created a new auto-exchange template to automatically exchange Bitcoin to Litecoin!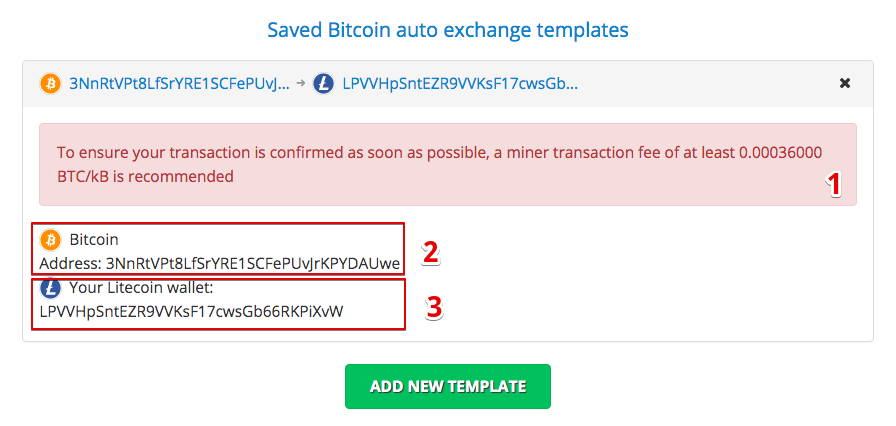 In (1) you can see the warning regarding bitcoin miner's fee. It's merely a recommendation to set appropriate miner's fee before sending out your bitcoin transaction so it will be quickly confirmed on the network and your order will be completed within few minutes.
In (2) you can see the actual Bitcoin deposit address which is tied to this specific auto-exchange template.
In (3) there should be your correct payment details, please double check them and make sure that you've specified correct details there (if not, delete this auto-exchange template and start over).
4. The next step is to send Bitcoin to the deposit address provided earlier (2).
The sending method depends on the Bitcoin's client you're using.
Here is an example of how to do that in Electrum wallet: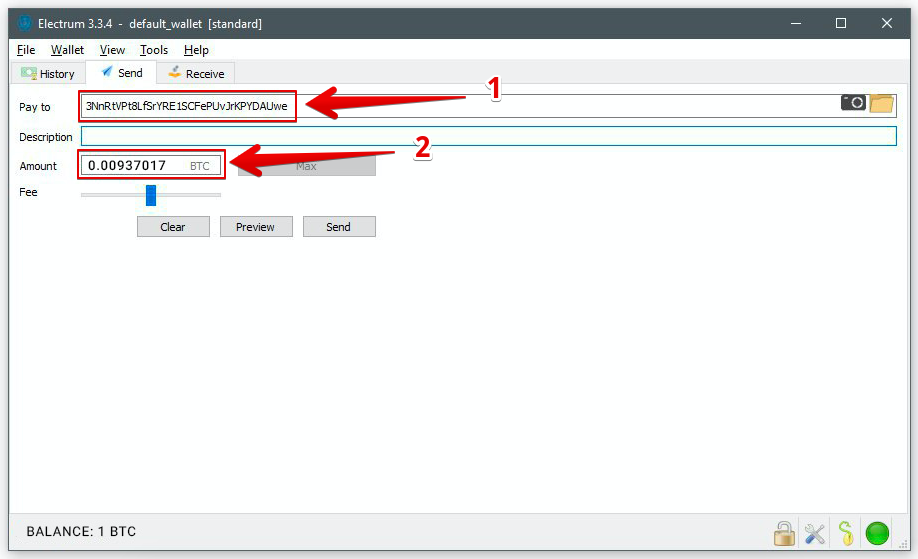 In (1) you need to copy-paste the Bitcoin deposit address obtained earlier (part 3 of the guide).
In (2) you need to specify at least minimum amount allowed for this exchange direction (this amount has been mentioned earlier in 2.3).
5. After we receive your bitcoin transaction you'll get an e-mail that new exchange order has been created. Once your bitcoin transaction gets 2+ confirmations your exchange order will be completed automatically and thus you'll receive money on your Litecoin wallet.

​
To create another exchange order - simply send another transaction to the deposit address!
6. Also you can manage your auto-exchange (2) templates in your account (1):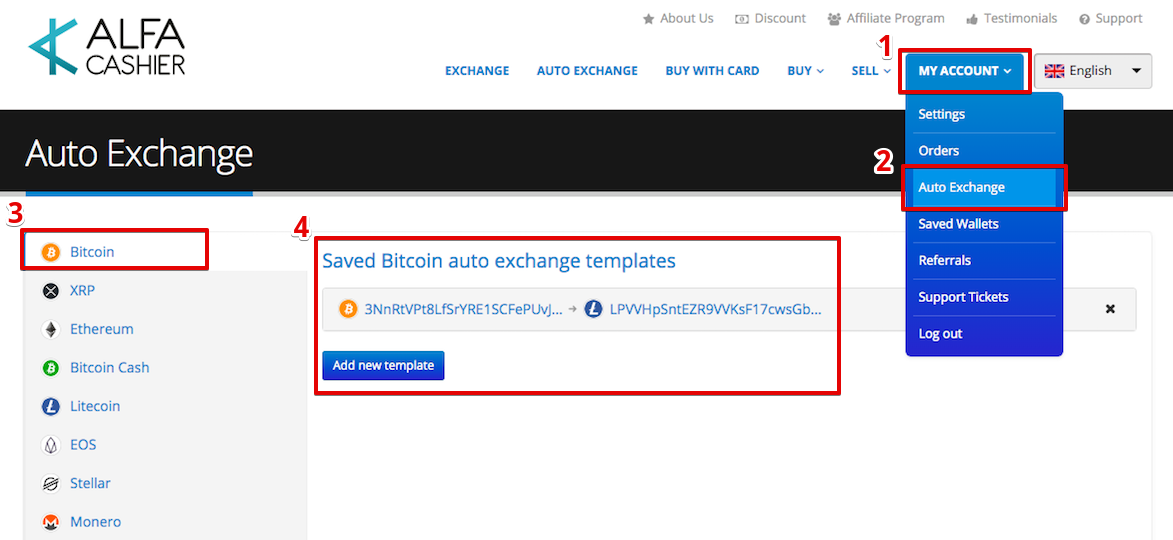 ​
To reveal auto-exchange template deposit address simply click on certain auto-exchange template (4).
Best wishes,
​Alfacash team.