If you have any questions and you cannot find the answers in the FAQ section https://www.alfa.cash/support, you can contact the support service ALFAcashier.com.
To do this, you must be logged in. If you have not registered on our site, you can do so by clicking on the link https://www.alfa.cash/register. This process will not take more than a minute. If you have any difficulties with the registration process, be sure to refer to our detailed instructions here.
You can ask a question in one of two simple ways.
1. Support page. After logging in, please click on the "Support" tab in the upper right corner of the page.

​
You will see the "FAQ" section where you may be able to find the answer to your question. However, if you cannot find it, you can write directly to the support service. There is a comment box where you can report your issue above the list of questions. Next, you must select the category that best fits your situation from the ones listed below the box. If your question is about an order, then you must enter the order number in the relevant field and ask your question. If necessary, it is possible to attach supporting documents, including screenshots or other files.
After you are sure that all fields have been completed correctly, press the send button and our support team will contact you shortly.
2. Order History Page. To contact the support by the second method, after you log into the service you must click on the "Account" tab in the top right corner of the page and select "Orders".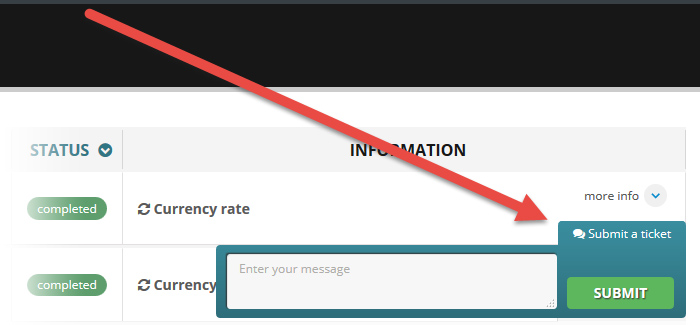 You will be shown information about your entire order history. Every order has the option "Contact Support". After clicking on that option, a window will appear where you must enter your request. After sending the message, you will be shown information about the ticket that was created for your request. The support service will answer your question by posting a comment on this page as well as by sending a message to the e-mail address that you provided when registering on the website ALFAcashier.com
For your convenience, we have created a page that shows all of your support requests, including both new and completed requests - https://www.alfa.cash/support/tickets. Thus, at any time, you can refer to your correspondence with the service and find any information that you require.
We hope you find our new service easy and convenient to use.
Regards, ALFAcashier team.