Alfacash is a fast, completely automatic, reliable cryptocurrency and digital assets exchange service.
Buy, sell and exchange many types of digital assets, including cryptocurrency, Ethereum token and other digital money assets between each other instantly with lowest fees at Alfacash!
You can exchange instantly Cryptocurrency:
Ethereum tokens:
Or digital assets as well as regular currencies involving:
Yandex.Money (RUB)
Flexepin (CAD)
Credit/debit cards (Visa/MasterCard) (USD/EUR)
Most exchange directions are fully automated and thus not requiring any operator interaction, meaning your order will be automatically completed within 5-30 minutes.
Before using the exchange service at Alfacash, please read terms of use carefully and accept them.
Registration at Alfacash is required for some exchange directions and for some exchange directions is not required. However, there are many benefits of opening an account at Alfacash, one of them is discount and many other advantages of opening an account at Alfacash .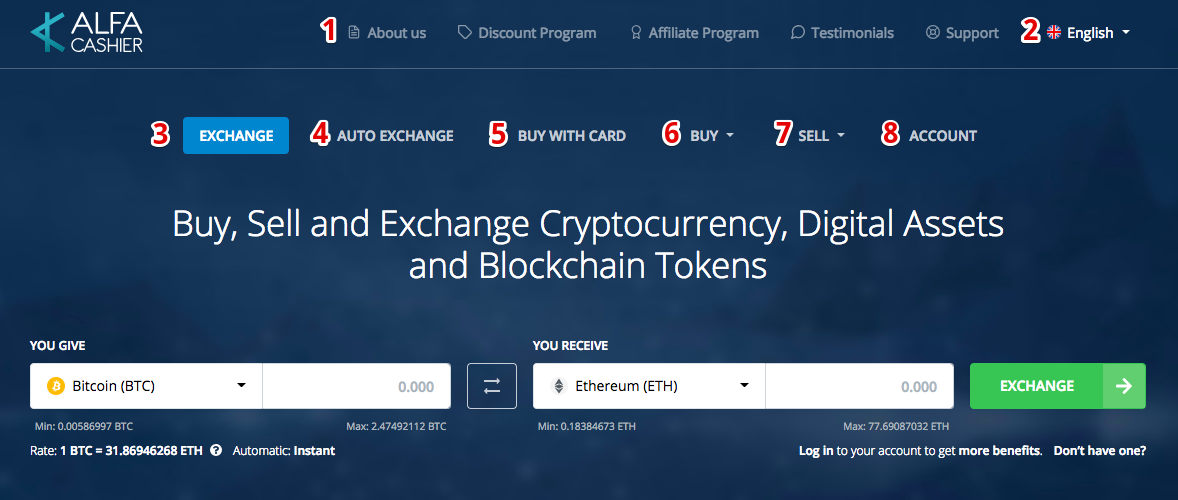 ​
Read about Alfacash service, discount program, referral program, read Customer Reviews, find answers to frequently asked questions, read our guides or submit a ticket to the Support Service (available only for registered users)
Change language in which website is displayed. Available languages: English, Deutsch, Español, Russian
Link to the main page
Manage/Create Auto Exchange templates (learn more about auto-exchange system here)
Buy cryptocurrency with Credit Card (VISA/Mastercard)
Buy cryptocurrency menu
Sell cryptocurrency menu
Manage Your Account
You can scroll the block by dragging it with your mouse or click on the slider button. Also there is a cryptocurrency rates page cryptocurrency rates page

​
Select the exchange direction you're interested in from the main page.
Example: exchange Bitcoin to Litecoin
Left column - choose a source currency (e.g. Bitcoin)



Right column - choose a destination currency (e.g. Litecoin)
Click Exchange green button

​​
The detailed guide How to Buy Bitcoin with Litecoin.
You can easily filter currency by typing part of it into the search field and see all available reserves when you select destination currency: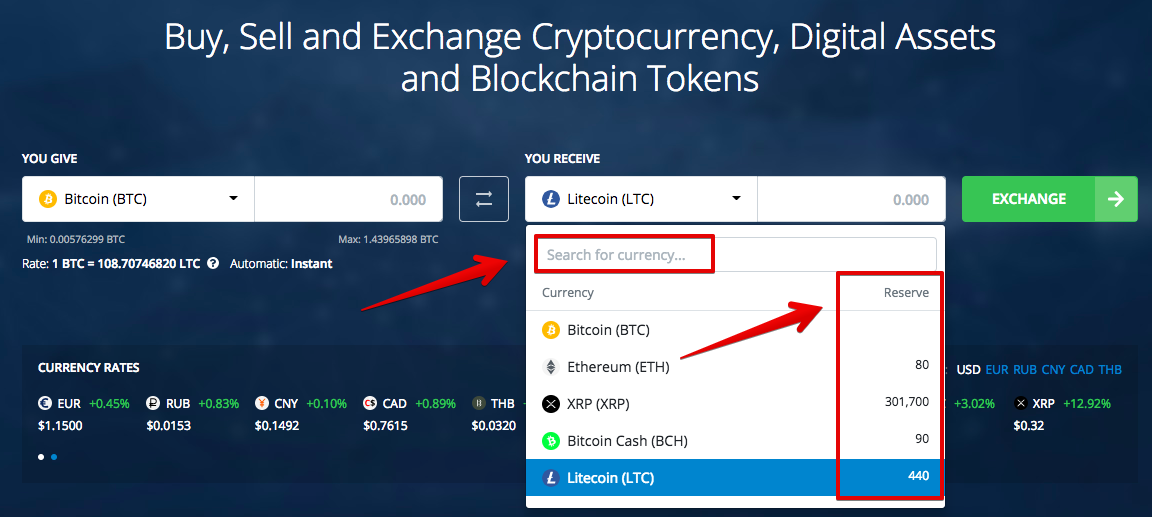 ​
If the exchange direction is temporarily unavailable you can subscribe to it by clicking the button "select to subscribe" get notified on your e-mail address*
*Please note, subscription works only one time and is not permanent.

​
Last customer reviews, you can scroll them by clicking slider buttons. All customer reviews are located here.
​
24 hour exchange statistics
Registered Users
​Recent Transactions


​
Bottom of the main page contains Referral Program information. You can join it here!
​

​
1. News and company updates
2. API (application programming interface helps which helps you to integrate Alfacash on your website)
3. Legal and terms of use information
4. Fees & Limits link will give you detailed information about:
exchange limits
minimum/maximum exchange amount
exchange reserve
service fee
average exchange time
​if exchange direction requires passing account verification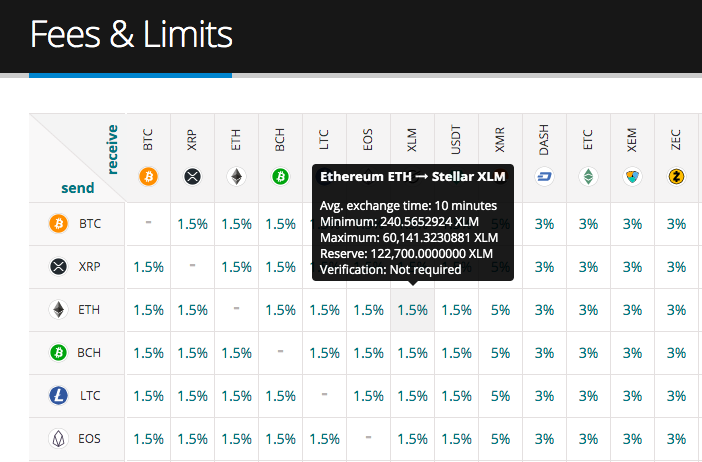 ​
5. Cryptocurrency Rates - charts and historic cryptocurrencies data
6. Export Rates - useful for getting all available exchange directions in XML/TXT format
7. Available Job Vacancies
8. Official social network groups: Telegram, Facebook, VK, Twitter, Instagram
We hope you find our service easy and convenient to use.
Best wishes, ​
Alfacash team.