Alfacash is a fast, completely automatic, reliable cryptocurrency and digital assets exchange service.
Buy, sell and exchange many types of digital assets, including cryptocurrency, Ethereum token and other digital money assets between each other instantly with lowest fees at Alfacash!
You can exchange instantly:
Or digital assets as well as regular currencies involving:
Credit/debit cards (Visa/MasterCard) (USD/EUR/CAD)
SEPA (EUR)
Most exchange directions are fully automated and thus not requiring any operator interaction, meaning your order will be automatically completed within 5-30 minutes.
Before using the exchange service at Alfacash, please read terms of use carefully and accept them.
Registration at Alfacash is required for some exchange directions and for some exchange directions is not required. However, there are many benefits of opening an account at Alfacash, one of them is discount and many other advantages of opening an account at Alfacash .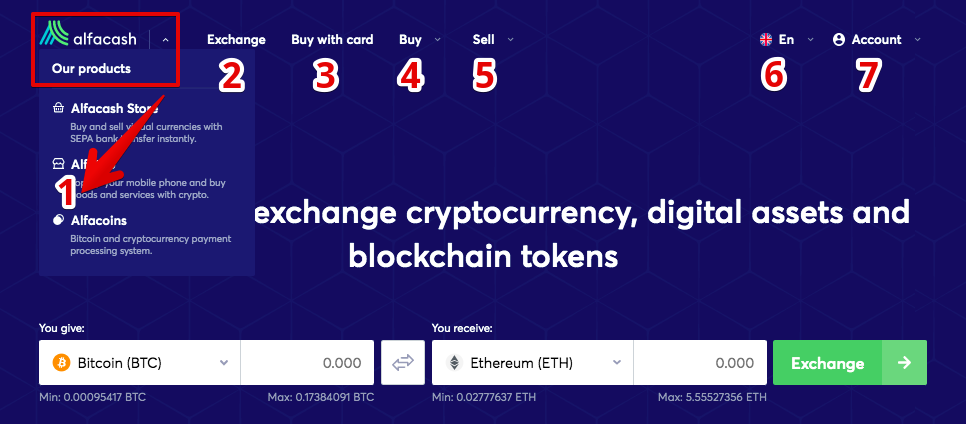 ​
1. Read more about our products and try them:
Alfacash Store - Buy and sell virtual currencies with SEPA bank transfer instantly.
ALFAtop - Top-up your mobile phone and buy goods and services with crypto.
ALFAcoins - Bitcoin and cryptocurrency payment processing system.
2. Link to the main page.
3. Buy cryptocurrency with Credit Card (VISA/Mastercard).
4. Buy cryptocurrency menu.
5. Sell cryptocurrency menu.
6. Change the language in which website is displayed. Available languages: English, Deutsch, Español, Русский, 中文, हिन्दी, عرب, Português, 日本語, Türkçe, Français, Italiano.
7. Manage Your Account.
The rates of 5 popular cryptocurrencies are displayed here. To view all assets go to cryptocurrency rates page.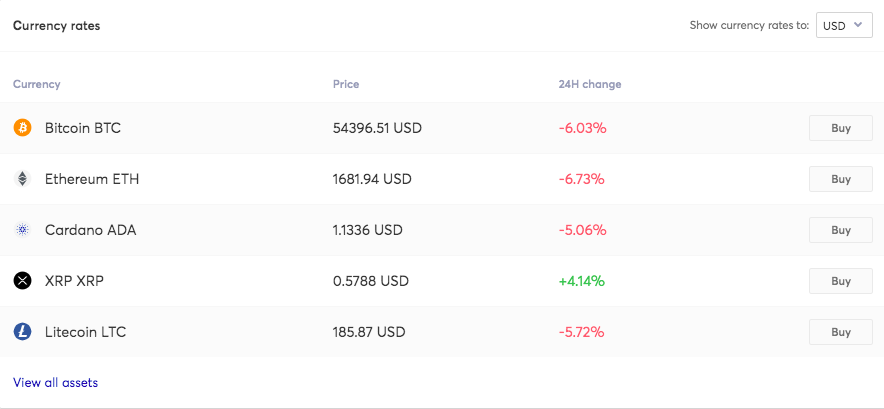 ​
Select the exchange direction you're interested in from the main page.
Example: exchange Bitcoin to Litecoin
1. Left column - choose a source currency (e.g. Bitcoin)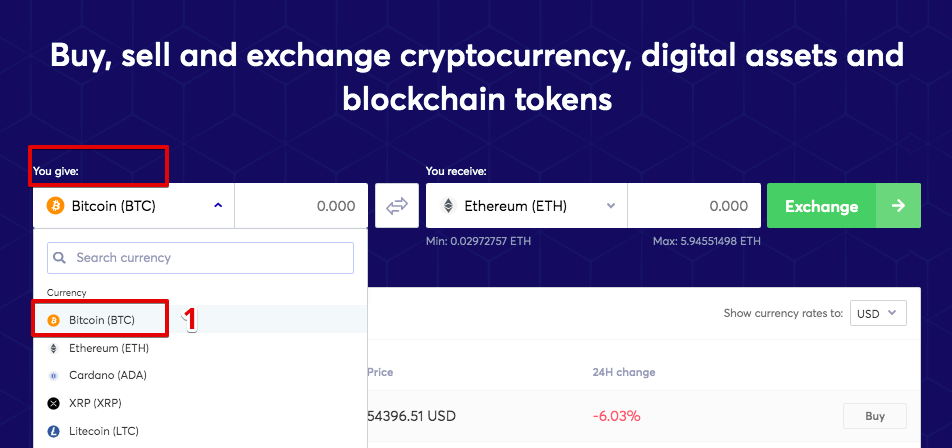 2. Right column - choose a destination currency (e.g. Litecoin)
3. Click Exchange green button

​​
The detailed guide How to Buy Bitcoin with Litecoin.
You can easily filter currency by typing part of it into the search field and see all available reserves when you select destination currency: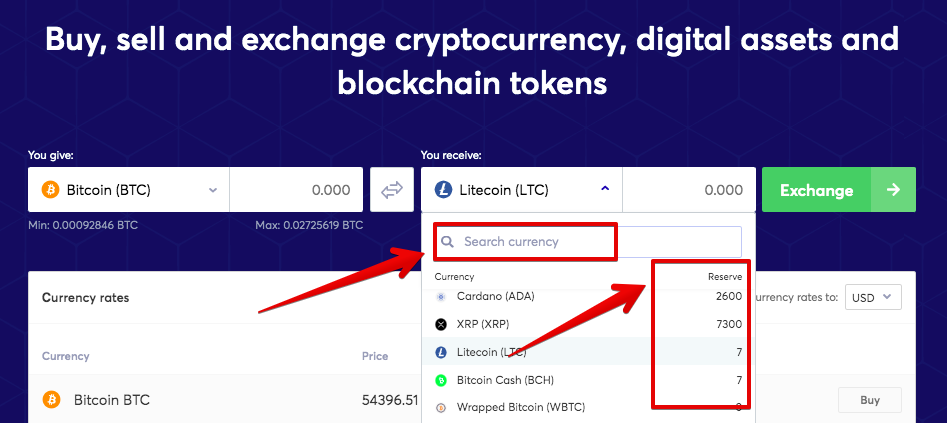 ​
This is the Alfacash benefits block.

​
Total exchanges amount
Exchange orders processed
​Available cryptocurrencies


​
Our main work principles:
​​Beneficial exchange rate

​ Alfacash provides the best exchange rate and
transparent fee
structure with no hidden fee.
​​Low fee transactions

​ Every day Alfacash offers several exchange directions with
low fees
.
​Discount program

​
Register
and
save up to 10% on fees
on every exchange order!
​​Security

​ Alfacash is a non-custodial cryptocurrency exchange, keeping high standards of
security
and
confidentiality
.
​​Multilingual

​ Alfacash has been translated to multiple languages:
English
,
Deutsch
,
Español
,
Русский
and 8 other languages.
​24/7 support

​
Alfacash support
is always there to help you!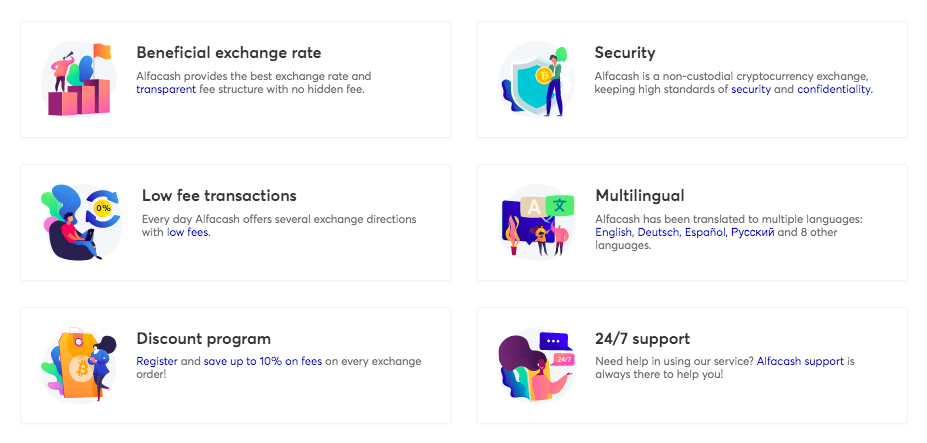 ​
Last customer reviews. All customer reviews are located here.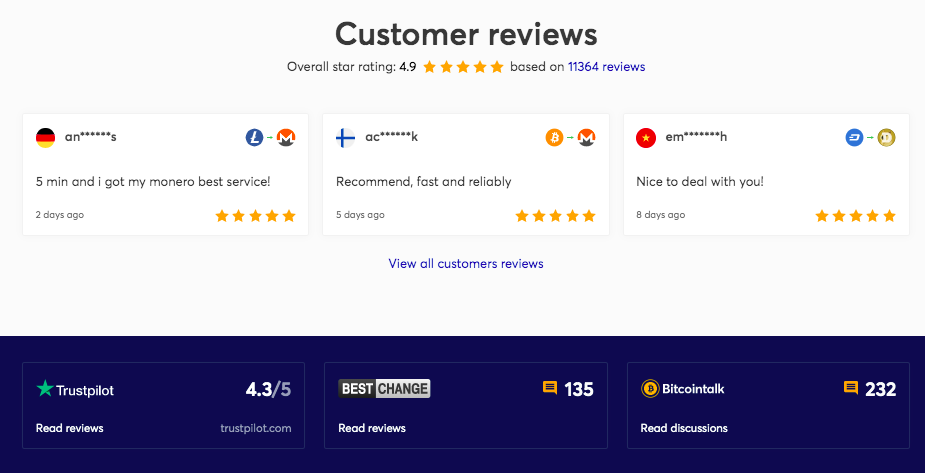 ​
Bottom of the main page contains Referral Program and Discount Program information. You can join us here!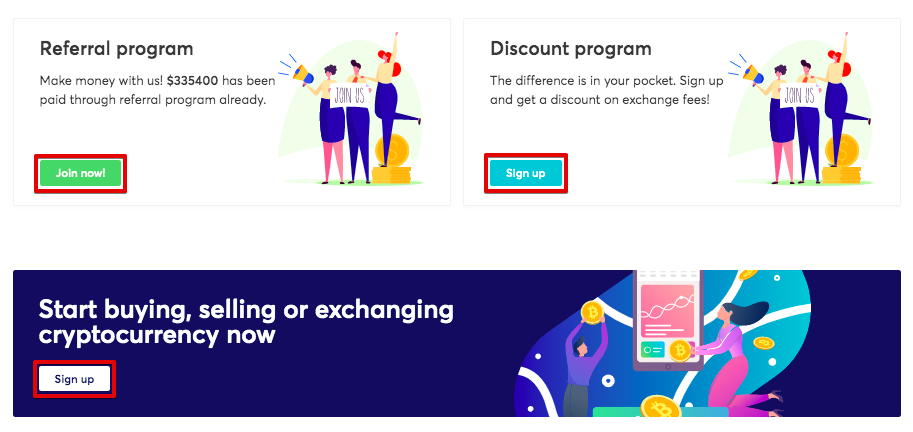 ​
Footer contains links to:

​
1. Cryptocurrency Rates - charts and historic cryptocurrency data.
2. Auto-exchange - allows you to make quick Cryptocurrency exchange automatically.
3. Fees & Limits link will give you detailed information about:
exchange limits
minimum/maximum exchange amount
exchange reserve
service fee
average exchange time
​if exchange direction requires passing account verification

​
4. Support - Alfacash support is always there to help you!
5. API - application programming interface helps which helps you to integrate Alfacash on your website.
6. Discount Program - make exchanges and save up to 10% on fees.
7. Referral Program - Make money with us!
8. Export Rates - useful for getting all available exchange directions in XML/TXT format.
9. About us - read about the inception and short company history.
10. News and company updates.
11. Press about us.
12. Available Job Vacancies.
13. Blog - all you need to know about cryptocurrency and more.
14. Customer reviews - the last customer reviews.
15. Legal and terms of use information.
16. Official social network groups: Facebook, Instagram, Twitter, Telegram, Medium Blog.
We hope you find our service easy and convenient to use.
Best wishes, ​
Alfacash team.